4 Unique Quarantine Wedding Ideas: These Couples Carved Out Their Own Traditions For The Big Day
These have made their celebrations even more meaningful
Our lives in the time of the pandemic are marked with uncertainty, but as they say, there is always a silver lining to everything. For many, it's the reminder that love, in its many forms, will always prevail.
In the last year we've seen couples get engaged, mark their betrothal with unique prenup photo sessions, and finally walk down the aisle as man and wife. The following couples found ways to make their union happen despite the odds, even marking the occasion with some very unique elements that make them truly memorable. From the clothes, ceremonies and giveaways, we love how they made their wedding celebrations truly their own in the time of COVID.
Farm produce as giveaways

Singer-musician Krina Cayabyab and actor-choreographer Stephen Viñas tied the knot in an intimate wedding ceremony on December 21, 2020 at Saint John Paul II Parish in Eastwood City. Reception was held at the Green Meadows Clubhouse.
Their Filipiniana-themed wedding included details like weaving and unique embroidery in the groom's barong and a Terno wedding gown for the bride. What really stood out was the "clever and most unique idea for a giveaway," in the words of the bride's father, National Artist for Music Ryan Cayabyab.
The couple had stalls filled with fresh produce set up at the reception venue. At the exit of the reception, guests were given bayongs that they could fill with everything they wanted to take home, from fruits like saging na saba, latundan, calamansi, and lemon; vegetables, including camote, ube, carrots, and zucchini; to potted plants, and packs of seeds, most of which were sourced directly from farmers in Laguna.
It was indeed a wedding wish come true for Krina and Stephen who really wanted an "eco-friendly and minimalist themed one," according to a report by Philstar, and they were able to make it happen despite the eruption of Taal Volcano and the pandemic!
Trading a gown and a suit for PPEs

The church wedding of doctors Geraldine "Ging" Zamora, rheumatologist, and Lauro "Sonny" Abrahan IV, an interventional cardiologist, on February 19, 2021 at San Pedro Calungsod Parish in Antipolo, Rizal was strikingly simple and small, yet was special and unique. A "pandemic-sensitive wedding," they called it, using a term coined by their coordinator, Ernest Pascual of Bespoke Manila.
With busy schedules that became even more hectic because of the COVID-19 outbreak, Sonny says they entrusted the planning of the ceremonies to Ging's friends from the wedding management industry.
"They came through for us, infusing their own vision for the ceremonies, but staying true to our core requests of keeping things simple and safe for everyone," he told OneLife.ph.
One of the most interesting details of their quarantine wedding was their decision to wear PPEs or scrub suits. "It is said that one should wear one's best in front of God, [and] we feel that we are at our best when we serve as instruments of His healing."
The safety of their guests was truly a priority for the couple. Even when they were allowed to accommodate up to 150 guests, they kept the number to the bare minimum with only 15 to 20 close friends, in addition to their family members.
"The larger "renewal of vows" celebration can just follow maybe years down the line, when the pandemic has already run its course," Dr. Sonny says.

RELATED: Our Love Story, Our Theme: 5 Unique Prenuptial Photoshoots Of Pinoy Couples In The Time Of COVID
Feet washing ceremony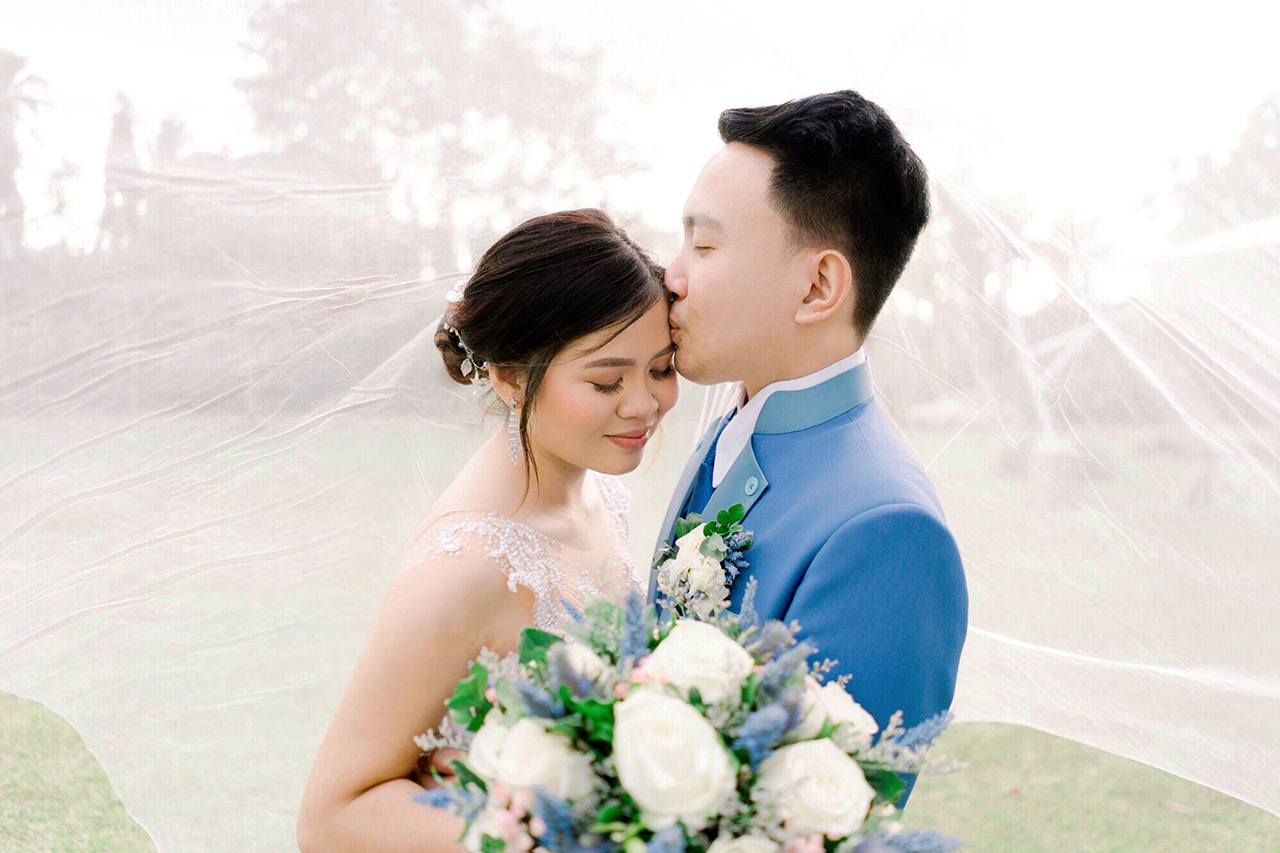 Junize San Diego-Bellen and Dr. Christian Mark Bellen had been engaged for two years before they decided to move to the next chapter. They even asked for a "sign" from above, where Dr. Christian had to pass the board examinations first before they could proceed with their wedding preparations.
"Last year, 'yung review season para sa mga mag-e-exam, sa bahay lang kasi pandemic. Pumasa siya despite ang daming nangyari [and] it's like a confirmation from God na it's time for us to get married," Junize told OneLife.ph.
After two months of planning and preparation, Junize and Mark tied the knot on February 21, 2021 at Savanna Farm by Solange, Tagaytay City.
What makes their quarantine wedding unique, aside from a sanitation booth at the registration desk, is their feet washing ceremony. According to Junize, this ceremony symbolizes humility and servanthood as based on the Bible.
"We will serve each other; we will be helpful to each other, and we want to show 'yung act of humility in front of everybody," Jurize says.
A number of unforeseen events almost threatened to dampen their celebrations, like the volcanic activity in Taal one week before their special day.
"It was a scary and uncertain time for us ng asawa ko, somehow nag-isip na rin kami na, sige lilipat na lang tayo sa Manila, but the Lord is really faithful to us, natuloy naman kami. Actually, it also rained one hour before our wedding ceremony. Still we were able to push through."
A "first look" for the couple

Actress Bettina Carlos introduced herself as a "COVID bride" after marrying Mikki Eduardo on December 2, 2020 at Tagaytay Highlands.

Bettina shared on her Instagram post that she and Mikki got married not only once, but twice, on the same day. She says in her photo caption, "For some reason I knew in my heart I was going to get married this year.... BUT I did not expect it to be TWICE and on the same day. "
Mikki also proposed to Gummy, Bettina's daughter, the day before their wedding to ask permission to officially be called her father.
The couple also did away with the traditional belief that the groom must only see his bride on the day of the wedding when she walks down the aisle. Instead, they had a "first look," where Bettina and Mikki shared a private moment to see each other in their wedding outfit before anyone else does. Since they had two wedding celebrations, Bettina called these moments the First Look and the Second First Look.

On her Instagram post, she wrote, "They all say a wedding is so fast. So to slow it down a bit and savor the sight of each other, we chose to do this. Such beautiful meaningful moments!!! Both equally emotional. The morning one more of mysterious anticipation and the second more of peaceful joy."