If You're Planning An Underwater Engagement Shoot, Here's What You Need To Know
Ready to take the first plunge?
If you've seen Andi Eigenmann and Philmar Alipayo's beautiful underwater engagement shoot in December 2020, then you have gotten a glimpse of how ethereal the ocean looks from underneath. But this is not news. In fact, several scuba divers and professional surfers have fallen deeply in love with the ocean that they took their passion to the next step: underwater photography. OneLife.ph spoke to some of them.
Pernilla Sjöö, from Sweden, started taking underwater photos when she dove for the first time 11 years ago. She says she realized that the more she dove, the more she wanted to be better in underwater photography, so through the years, she purchased better equipment and learned by practice. She is currently based in Anilao, Batangas as Solitude Acacia Resort's general manager, but has explored different beaches in the Philippines and all over the world. She was also Andi and Philmar's photographer for their engagement shoot.
Pernilla also photographed actors Jennylyn Mercado and Dennis Trillo during a dive!

Ram Yoro is also a scuba instructor aside from being an underwater photographer.

"I took up underwater photography way back when I was a recreational diver in 2006. It was purely leisure in the beginning, I just wanted to show family and friends the beauty of the reefs," he shares. "Over time, commercial opportunities started coming in. Around 2015, as shoot projects became more regular, I began doing underwater photography on a full-time basis, in addition to being a scuba instructor."
The beauty of the ocean made Ram pursue a career in underwater photography. He hopes that through his lens, those who do not get the chance to see the ocean's treasures will get to appreciate them as much as he does. "I pray that the colorful images of the reefs may inspire the audience to care for our fragile, beautiful oceans," he adds.
Currently, he conducts photography workshops and teaches scuba diving in Anilao, Batangas.
RELATED: 4 Unique Quarantine Wedding Ideas: These Couples Carved Out Their Own Traditions For The Big Day
What equipment is needed for underwater photography?
Eric Javier, a resort owner who has been an underwater photographer since 2015, says that you need two major pieces of equipment: your scuba diving gear and your camera set-up.
For your scuba diving gear, you will need:
Wetsuits
Scuba tank
Buoyancy control device (BCD)
Diving regulator,
Mask and fins
Dive computer
For your camera set-up, you will need:

Underwater camera
Underwater camera housing
Floaters
Strobes and focus light
Camera wet lenses
Though not required, a dive buddy or spotter will greatly help as well
Thinking of having an underwater photo shoot? The professionals answer the questions you've been meaning to ask.

Does the client need certifications too?
Ram believes that safety is paramount for underwater shoots involving people, so if the participants are not yet certified open water divers, they would need to undergo basic scuba diving training. He emphasizes that the success of the photo shoot highly depends on the comfortability of the participants.
"This will help familiarize them with the scuba equipment, safety protocols, and enable them to focus on the shoot," he explains. "However, for more elaborate or challenging shoots, Open Water Diver certification or higher may be necessary so as not to compromise the success and safety of the activity."
What preparations are needed for an underwater photoshoot?

"For shoots involving people underwater, a detailed dive briefing is essential for a productive shoot," says Ram. The briefing covers the dive plan, safety protocols, framing and blocking, and the necessary auditory and/or hand signals for communicating underwater. If logistically possible, practicing in shallow water first helps the client become comfortable before getting into the actual shoot.
RELATED: How Rich Do You Have To Be To Afford A 3D2N Vacation in Amanpulo?
How much does it cost to have an underwater photoshoot?
Rates depend on the location, number of photos needed, and of course, the expertise of the photographers and divers involved.
Pernilla's rates start at Php 10,000, which includes edited and raw photos. If there is a need for a scuba diving instructor, there will be an additional Php 3,500 per person.
For Ram, the basic rate for reef exploration and documentation is Php 20,000 per day, inclusive of 15 high resolution photos, and two- to three-day dives. However, transportation, board and lodging, and conservation fees are not included in the basic rate.

If you're looking for a fun prenuptial photo shoot or engagement shoot idea like that of Andi and Philmar, consider having your photo taken by freediver and underwater photographer Johndee Valencia.
"I have done a lot of shoots but mostly fun dive shoots, recreational shoots, and product shoots for swimwear. For prenups and engagements, I have done two shoots and one pending shoot postponed due to the COVID situation."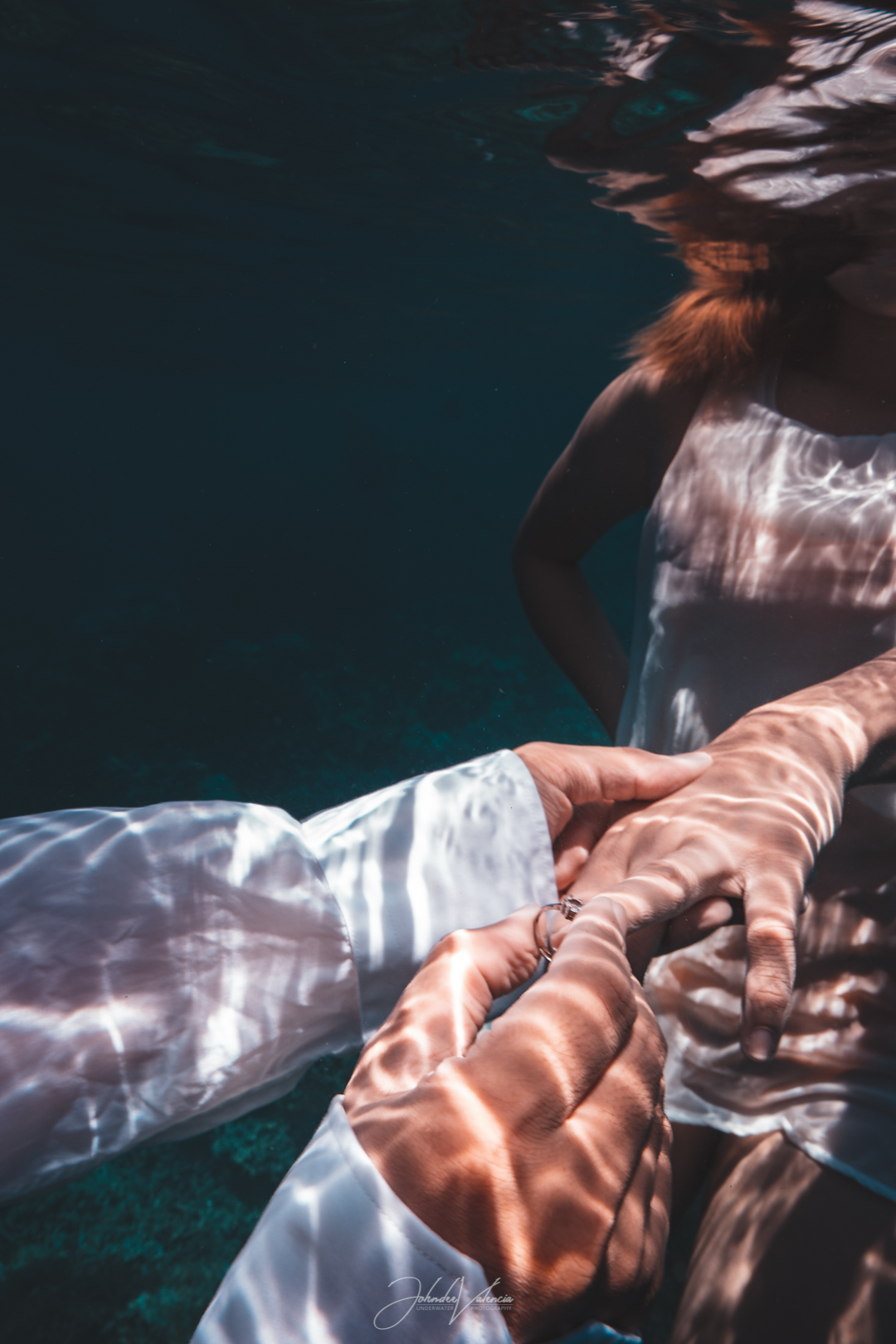 An underwater prenuptial shoot costs around Php 25,000. But if you have an underwater camera like a GoPro, you can always DIY, just like what freedivers Trisha and Mackie did! The couple got engaged literally underwater!
"This photo was just very DIY and taken by our friend using my GoPro," says Trisha.

However, note that if you're planning to DIY a photoshoot underwater, you must still attend a basic freediving class to ensure your safety. "I think it would be good to emphasize responsible diving and tourism, especially because some people might do it on corals, etc. (these were rocks!)," Trisha says.
Let us not forget what actually matters

While commercial shoots are truly unique and beautiful, underwater photography should be more beneficial to the environment than to us. In fact, it has an active role in species identification and ocean research. The photographers interviewed here also started because of their love for the ocean and its beauty that needs to be preserved.
"I feel like I can tell a freediver's story through videos and photos -- freediving itself, its beauty, its chaos, its challenges, lessons and experiences. I connect to people through those channels. I also aim to tell ocean stories and raise awareness of its current status," says Johndee.
"I have taken some photos of animals that adapted to their polluted environment by inhabiting plastic bottles," shares Jonathan Tabisaura, who has been an underwater photographer since 2012.
"Most people are careless to forget that there are smaller, living beings on our planet. As an underwater photographer, I want to be able to start a conversation about the existence of these tiny critters. Hopefully, it will create awareness and interest the audience."
You may reach Pernilla Sjöö, Ram Yoro, Jonathan Tabisaura, Eric Javier, and Johndee Valencia through the following channels:

Pernilla Sjöö: 0917-1471525
Ram Yoro: 0908-8644174 or ramyoro@yahoo.com
Jonathan Tabisaura: 0917-5450700 or jtabs@urbangadgets.ph
Eric Javier: 0905-9990405 or ericsjavier@yahoo.com
Johndee Valencia: 0927-9904740 or on Instagram
* With additional research work by Dianne Mariano
RELATED: Our Love Story, Our Theme: 5 Unique Prenuptial Photoshoots Of Pinoy Couples In The Time Of COVID