"Nothing Replaces Hard Work": Cyber Security Executive On How She Rose To The Top With No Tech Background
This Communication Arts graduate is defying all odds and proving, your only limit is yourself.
Last but not the least in our Wonder Women in the Workplace series for International Women's Month is a tech executive who neither has an academic background related to the science, nor is a user of the latest technologies. Yet somehow, Myla V. Pilao, Director of Technology Research at Trend Micro in Canada, is making a mark in this male-dominated field.
A graduate of the University of Santo Tomas in the Philippines with a Bachelor of Arts degree in Communication Arts, Myla surprised even herself when she pursued a career in cyber security.
"Decades back, cyber security was still mostly a man's world. Instead of being intimidated — because of my lack of an IT degree or my gender — I took it as a challenge. Being the only woman in the room is tough, sure, but making a stand is important," she writes in an article on LinkedIn.
Armed with an Executive MBA from the National University of Singapore in 2008, Myla rolled up her sleeves and took on the challenge that is Information Technology. In this interview, she shares some fundamental learnings she imbibed from her first job as a customer service staff to her current role leading an entire network of technology geniuses from around the world.
Related Article: This CEO's First Job Out Of College Was To Market Red Horse Beer (And She Wasn't A Beer Drinker)
What was your first job?
I joined the customer service team of a telecommunications company 3 months after graduating from college.
Describe to us your experience in that first job.

Our first job will always be memorable because it's the first in many ways. It's our first taste of corporate life and corporate culture, the first time to work within a team, but it's also the last for several things: what you want to unlearn, what you don't want to do anymore or repeat in your career.
In the telco, I started with Customer Service and eventually transferred to Product Development and Marketing. During that time, this technology was new in the Philippine market so we pioneered a lot of things like educating the market. Overall, seeing your plans being executed in a huge market was exciting and fulfilling.
What stood out to me in the 5 years I've spent in my first job are:
The value of the customer - The importance of listening to their needs and motivations, and understanding their customer journey is fundamental.
The value of having a trusted mentor – We have to allow and embrace what I would call "a lifetime gift" of being guided by someone with wisdom and strong experience you can learn from.I am fortunate that I am still connected with two of my mentors from my first job.
Be a team player – imprinted in my work principle is the value of being a team player. I carry the notion that my success is their success, and vice versa, and take full advantage of being part of a collaborative team.
What was the biggest challenge you faced in that first job? How did you pull through?
First was the balancing act of being idealist versus pragmatic. When you're young, you feel like you don't have boundaries. You love taking risks, and I did. We like to experiment and innovate, without understanding what calculated risks mean, or when to take an idealistic approach versus a pragmatic approach.
I also had to learn the art of pausing to ask, "What's the goal?"
When given a project to work on, we are oftentimes conditioned to quickly move to the "how," or the execution phase, and we forget to ask, "Why we are doing this?" To me, these are fundamental questions to ask rather than jumping aggressively to execution.
Related Article: Emmy Award-winning Filipina Recalls She "Barely Made It To The Next Salary" On Her First Job
What was the most important lesson or skill you learned from that first job?
That nothing replaces hard work. The amount of success you will attain is commensurate to the amount of work or time you invest in your job.
Be hungry. Aspire to learn, educate yourself, try new things, and just be inquisitive.
What would you say to that younger version of yourself?
Enjoy the moment. When we're young, we're too eager to plan so far ahead that we don't see, appreciate, or enjoy what's in front of us. So enjoy the now, soak up the experience, and take it all in.
Your strength as a person is your biggest arsenal. Learn to leverage on your strength and use it to advance yourself. Don't be held back by your weaknesses -- they will always be there. Just acknowledge them and focus on your strengths and let those be the best part of yourself.
Describe to us the lowest point of your career so far. How did you rise above it?

In the early 2000s, I was part of the pioneer group who institutionalized the first BPO in the Philippines. This experience was extremely fulfilling, knowing that you are working for something very instrumental to the industry and the market. However, a few years after, I was also part of the team who had to make the difficult decision to pull the plug on the company. We faced many challenges over which we had no control, or what we call external shocks. I was able to rise above this situation by drawing from my strengths, by being transparent with our stakeholders, clients and employees, and sharing the brutal facts to manage their expectations.
Related Article: TikTok's Global Communications Director Started Out As A Student DJ For FM Radios
What do you do in your leisure time?
Pilates.
I also utilize the power of connection. During the pandemic, we were deprived of social connections. Just like everyone else I switched to virtual, but what I did was I tried to keep in touch with as many people as I can. I made it a point to connect with at least two people outside of my usual circle (work, friends) every day – people I was not able to talk for a long time, or new ones I would like to connect with and learn from.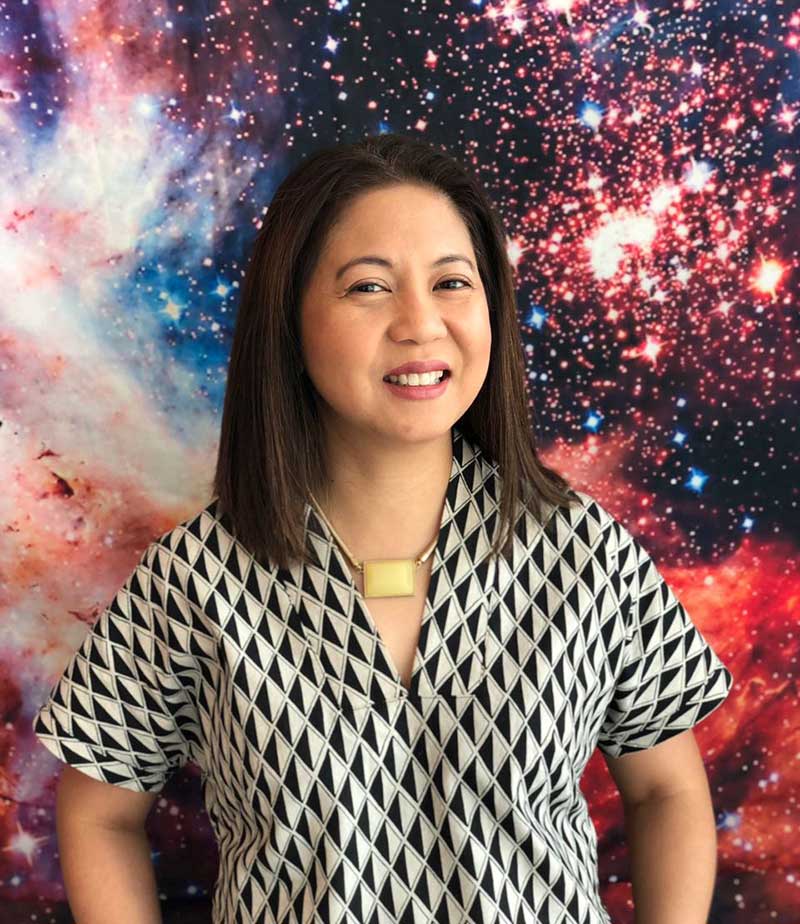 What would you tell women about work and life?

Be inquisitive and perceptive. Our world, the industry you are in – it's constantly changing. An inquisitive attitude can help you keep up. Perceptiveness, meanwhile, helps promote better understanding and working relationships among teams.
Be open to collaboration. Over the years, I've seen how collaboration has helped solve workplace challenges. Unfailingly, it has helped us achieve a goal or find a resolution even in the most challenging times.
It's not wrong to show some emotion. There are instances when emotions can be essential in expressing oneself, especially if it can benefit the team. This can be helpful for celebrating the group's successes, may it be big or small. At the same time, it can be crucial for finding solutions during challenging times. When conscientiously shown, emotions can help sustain a collaborative environment.
Find your passion and purpose. It's not just about liking what you're doing and being good at it, but also finding the bigger purpose of what you're doing.