Purple Love: Pinoy BTS Fans Rent Billboards, Spend Big Bucks To Show Support To The K-Pop Group
The Pinoy ARMYs' loyalty is something else!
There's a reason the Korean pop boy band BTS, or Bangtan Sonyeondan, are considered a worldwide phenomenon. Besides chart-topping hits and their global influence, the multitalented group members are backed by a loyal fanbase -- millions of A.R.M.Y (Adorable Representative MC for Youth), from different walks of life around the world.
The BTS ARMY in Southeast Asia are some of the most zealous fandoms, according to a report by OneNews -- purchasing concert tickets, merchandise, and music albums regardless of the cost. Here, three Filipino ARMYs share how they express their dedication to BTS.
Dianne Aguilar, an entrepreneur, set up her dream coffee shop in Quezon City in 2020 and named it Purple 7 Café, in honor of the Korean pop group.
She chose this name because BTS consists of seven members: RM, Jin, Suga, J-Hope, Jimin, V, and Jungkook. Purple, on the other hand, is considered a symbol for the group after V's famous line, 'I PURPLE YOU', which translates to "I will trust and love you for a long time".
"I started collecting official merchandise in October 2017. I got them from online resellers and during my trips to South Korea," says Dianne. Most of her collections are displayed in the café.
Before establishing Purple 7 Café, Dianne worked on doing birthday projects for all the members of BTS.
"I started with Jimin [in] 2018 since he's my bias," she says, which means that Jimin is his most favorite of all the members. Dianne rented "L.E.D. advertisements [or billboards] in EDSA" to display greetings for Jimin and held a small gathering for other ARMYs.
In 2019, Dianne also initiated exhibits in honor of the BTS members, and cup sleeve events, or fan gatherings usually held in a coffee or milk tea shop. Most of the proceeds from these events were donated to organizations like UNICEF.
Not surprisingly, Dianne has a complete collection of all of BTS' albums, and some photocards. "I began collecting their albums in October 2017 and the photocards in May 2018.
"I also have signed pages from the Persona fansign [event] I attended in April 2019," she says. Dianne has also attended events like the Speak Yourself Final in Seoul and the Melon Music Awards in 2019.
She shares that she stans [or that she is a fan of] the band because of their music, personality, and advocacies in societal issues like mental health.
While conceptualizing for her café, Dianne knew she wanted to set an ambience that most ARMYs will enjoy. "If I wasn't the owner, I'd say that these are the things I'd like to see and feel [in a space dedicated to BTS]," she says.
Purple 7 Café is the result of combined efforts among her family members and cousins who helped her finance the business, and ARMY artists who willingly shared their artworks to be displayed in the cafe. Preparations were delayed due to the enhanced community quarantine.
"I was supposed to open the café [on] April 12, 2020, but we were under ECQ at the time so I [just] started selling cookies in June, then sold coffee in August to pay for the rent of the café," shares Dianne.
While Purple 7 Café was open for take-out and pick-up since August, they only welcomed dine-in customers starting December 3, 2020.
"We continue our business operations following health guidelines and protocols, and we also update our social media for announcements and reservations," shares Dianne.
Besides bottled coffee and fruit drinks, Purple 7 Café also serves pasta and cakes. Their bestsellers are the Irish Cream and Hazelnut cold coffees, chocolate chip cookies, and red velvet jar cakes.
Purple 7 Café is located at NBC Square, Congressional Avenue, Brgy. Bahay Toro, Quezon City. Visit Purple 7 Café on Facebook or Instagram for more details.
Bianca Cuatico, an HR practitioner and alumni of the DLSU-CSB ARMY, has been a BTS fan since 2017 after watching the Spring Day music video and learning the meaning behind the song.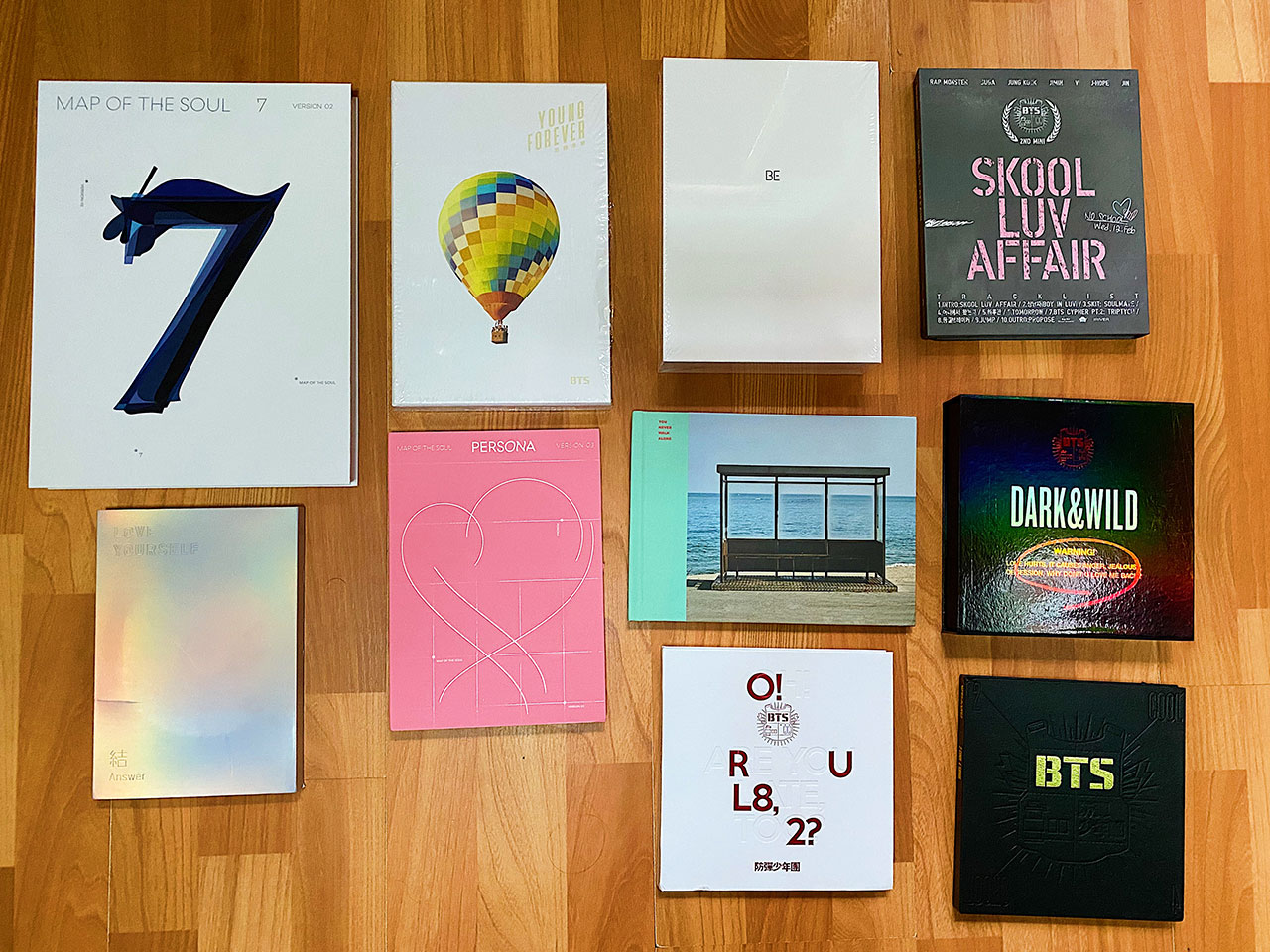 In August 2019, Bianca bought her first BTS merchandise: the BT21 Tata Face Cushion. "I purchased it because I found their characters adorable and I wanted to have something to hug whenever I went to bed," she says.
From there, her collection has grown and now includes albums, ARMY Bombs Special Edition, BT21 items, Official Army Membership Kit, and The Notes Book 1 and 2. She also has copies of some books that the band members read or recommended, like Jung's Map of The Soul; An Introduction by Murray Stein, The Ones Who Walk Away From Omelas by Ursula K. Le Guin, and Human Acts by Hang Kan, among others. In December, she bought the BT21 Chimmy Standee.
Jimin is Bianca's bias out of all the members. "He's extremely hardworking, dedicated to improving himself, and always does his best," she shares.
Prior to the pandemic, Bianca was able to attend fandom events like bazaars, cup sleeve events, and movie block screenings.
"The cup sleeve events would be held around the [time of the] birthdays of the BTS members, while the movie block screening and bazaar would be when a new one [movie or bazaar] came out," says Bianca.
During the pandemic, she watched BTS' online concerts such as Bang Bang Con in June and Map Of The Soul ON:E, which was a two-day live virtual concert, in October.
Bianca says that ARMYs from around the globe share congratulatory messages with organized hashtags during the birthdays of each band member.
"Besides these, I also take inspiration from their charity work by giving back to society via different charity causes and organizations both initiated by ARMYs and non-ARMYs."
She also educates new ARMYs or curious individuals about BTS and spreads awareness for their music and the meaning behind each track. She also participates in award-giving bodies' online polls to vote for the BTS boys.
Indeed, age is nothing but a number and you can choose to support and love anyone you wish. This is also what Alexandra Jalgalado, an entrepreneur, believes in. The 39-year-old mother of four boys became a BTS stan in October 2019.
Alexandra says she found out about the group through her niece Jiane, who resides in Belgium.
"When we went to Seoul in April 2017, she asked me to buy BTS merchandise for her. At that time, I didn't even bother to [find out] who BTS is," she says.
Alexandra shares that she began enjoying BTS' music videos after watching the origin of BT21 (animated characters created by the BTS members).
BTS' music, performances, and personalities made Alexandra stan and love the Korean boy band. She finds the lyrics to their songs to be inspirational and meaningful, and likes that these promote self-love and kindness.
"The boys are very humble and down-to-earth, and they love and respect their fandom a lot," says Alexandra.
Most of the items in Alexandra's BTS collection are related to Jimin, who is her bias.
"He stands out among the rest because he dances beautifully and gracefully. I also like his angelic voice," says Alecks.
During her Bangkok trip in October 2019, Alexandra purchased her first BTS item: version 3 of the Map of the Soul Personal Album, which costs Php 1,000. In December 2020, she bought the Samsung Galaxy Buds BTS Edition for Php 10,000.
Alexandra says she has probably spent around Php 300,000 to 400,000 so far on BTS memorabilia. "I have lots [of collections] I cannot count them anymore," she adds.
During the pandemic, she bought tickets to watch all of BTS' virtual concerts such as Bang Bang Con in June, Map Of The Soul ON:E Day 1 and 2 in October, and 2021 New Year's Eve Live on December 31.
There seems to be no bounds to the love of the ARMYs for their idols. Because of BTS' brilliant and unique craft, it's no wonder they have gained such supportive and loyal fans from all over the world, all of them continuing to spread light and positivity through BTS' music.