The One Where a Filipina Designer Created a Modern-Day Monica Apartment
Is Monica now a part of #TeamKahoy?
ICYMI, the hit '90s show FRIENDS is having a reunion special, set to premiere this Thursday, May 27, on HBO GO! It's been 17 years since the comedy show went off-air, yet fans are still over the moon by the comeback of Central Perk's most beloved gang.
Beyond the unforgettable characters, hilarious one-liners (Were they really ON A BREAK?!), and scene-stealing fashion styles, there is one place (besides Central Perk, of course!) that will take you straight down the FRIENDS memory lane: the iconic apartment of Monica Geller, played by actress Courteney Cox.

We don't know about you, but there's nothing quite like the charm of the purple front door that lets us reminisce about our favorite scenes from FRIENDS' 10-season run! And while some of its decor pieces would always have a timeless appeal, let's face it, the apartment's interior needs expert intervention to keep up to date with interior trends.

If you're wondering what a modern-day Monica apartment looks like, Angela Te-Sabordo has some answers! In celebration of the much-awaited reunion special, the Filipina designer went the extra mile creativity-wise by designing an upgraded look of Monica's abode!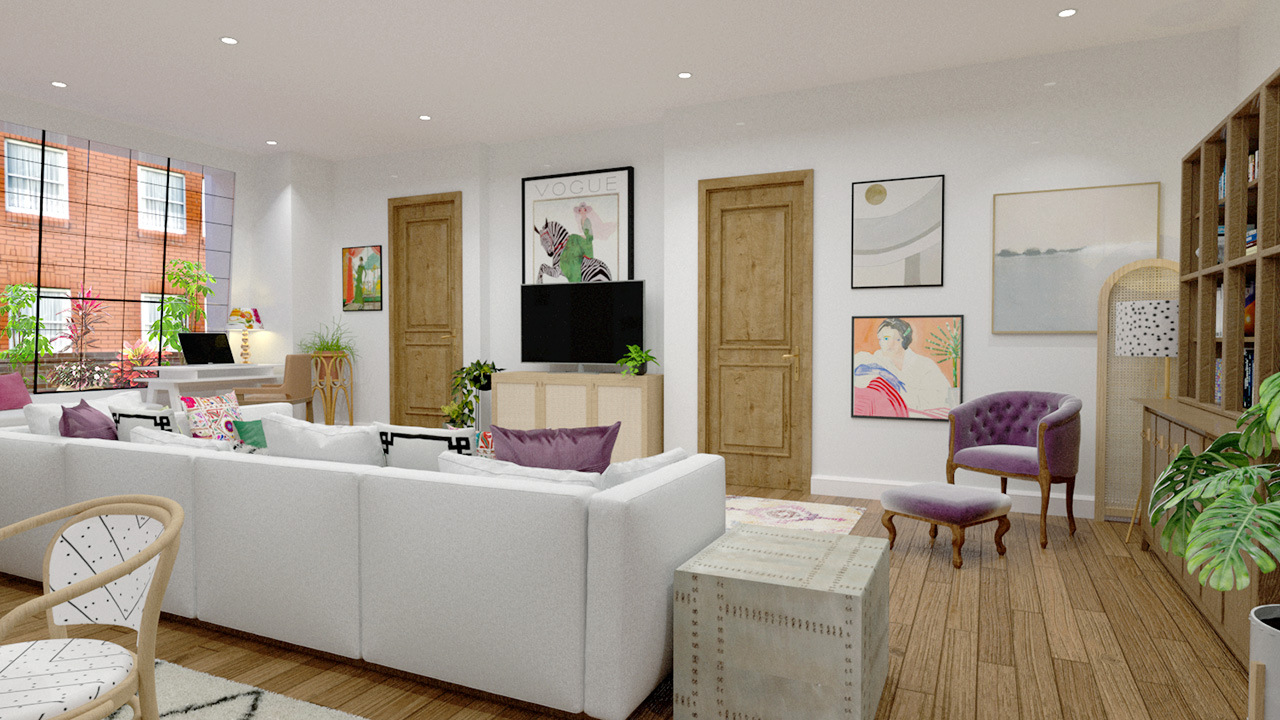 The result is a beautifully eclectic design that marries the schemes of old and new, bold and neutral, and the incorporation of global influences. The original design was already extensive, to begin with, so Angela didn't venture too far and instead elevated the interior into a more refined and streamlined version of its own.

It is also inevitable to take inspiration from Monica's personality, once described by FRIENDS' set decorator as "really meticulous and creative" and has an excellent eye to boot! "I drew inspiration from her character's attention to detail and cleanliness. Everything in the design is in the right place. It's worthy to note that Monica radiates positive energy, so that's evident on the color scheme as well," says the freelance designer, who is also a mom of two.

True enough, the colors used gave a nod to the nostalgic interiors we've all grown to love over several years of binge-watching, but with some exceptions, of course!

When asked why she opted to change the purple walls to white, Angela explained that the purple ones didn't make the cut for visual ease, saying that most interiors nowadays rely on comfort over a concept. "Since there's a pandemic, most of us prioritize making our homes a sanctuary at every level, injecting wellness and sustainability as top priorities." According to her, white walls provide a great backdrop for color splashes and feel friendlier to the eyes.

A hangout space for modern-day Friends

The apartment's upgraded look shows off a comfortable sectional sofa in which the six friends can relax and get their pandemic worries eased. "It's also stain-resistant as we all know how neat Monica can get," Angela shares with a laugh (PS. Only true fans know Monica's 11 towel categories by heart!).

When it comes to furnishings, Angela gravitated to injecting #TeamKahoy in her design, using wooden tables and cabinets straight from flea markets. Elements of cane weaving are also found in some of these pieces — a celebration of Filipino craftsmanship in the furniture industry. "It's something that I've observed and am very happy about. A lot of customers are more appreciative of the local furniture makers now!"

Overall, the redesign blends contemporary and timeless elements into a modern-day version of the iconic apartment we've all been fond of, updated with current interior design trends brought by the pandemic shifts.

Of course, no talk of Monica's apartment is complete without a mention of Joey and Chandler's humorously appealing bachelor pad, so would we see a redesign of it soon too?

Angela says she's currently working on it! "It's been good so far! I've taken the liberty to think of new hobbies that they might be interested in should the series be released at this time. Of course, fan-favorite pieces like Hugsy and foosball table will be included too!"

Can we BE more excited?

For updates on Angela's design projects and services, check out her Facebook page.

You can stream the FRIENDS The Reunion Special exclusively on HBO GO in the Philippines on May 27, Thursday, at 3PM Manila time.