Virtual Graduation, Baby Shower, Weddings: How The Lockdown Has Changed The Way We Celebrate
The quarantine could not stop families from celebrating together – never mind if it's through a computer screen.
Mareon, 23, could not be more excited about the event about to unfold. After four long years, he was finally going to mark the final chapter of his student life with a Bachelor of Science degree in Hotel, Restaurant, and Institution Management from the University of Philippines.
Today, July 26, 2020, was graduation day, but instead of going to an events hall or convention center with his loved ones, he was at home, with his partner and a few select relatives, setting up a projector and waiting for his virtual graduation ceremony to begin.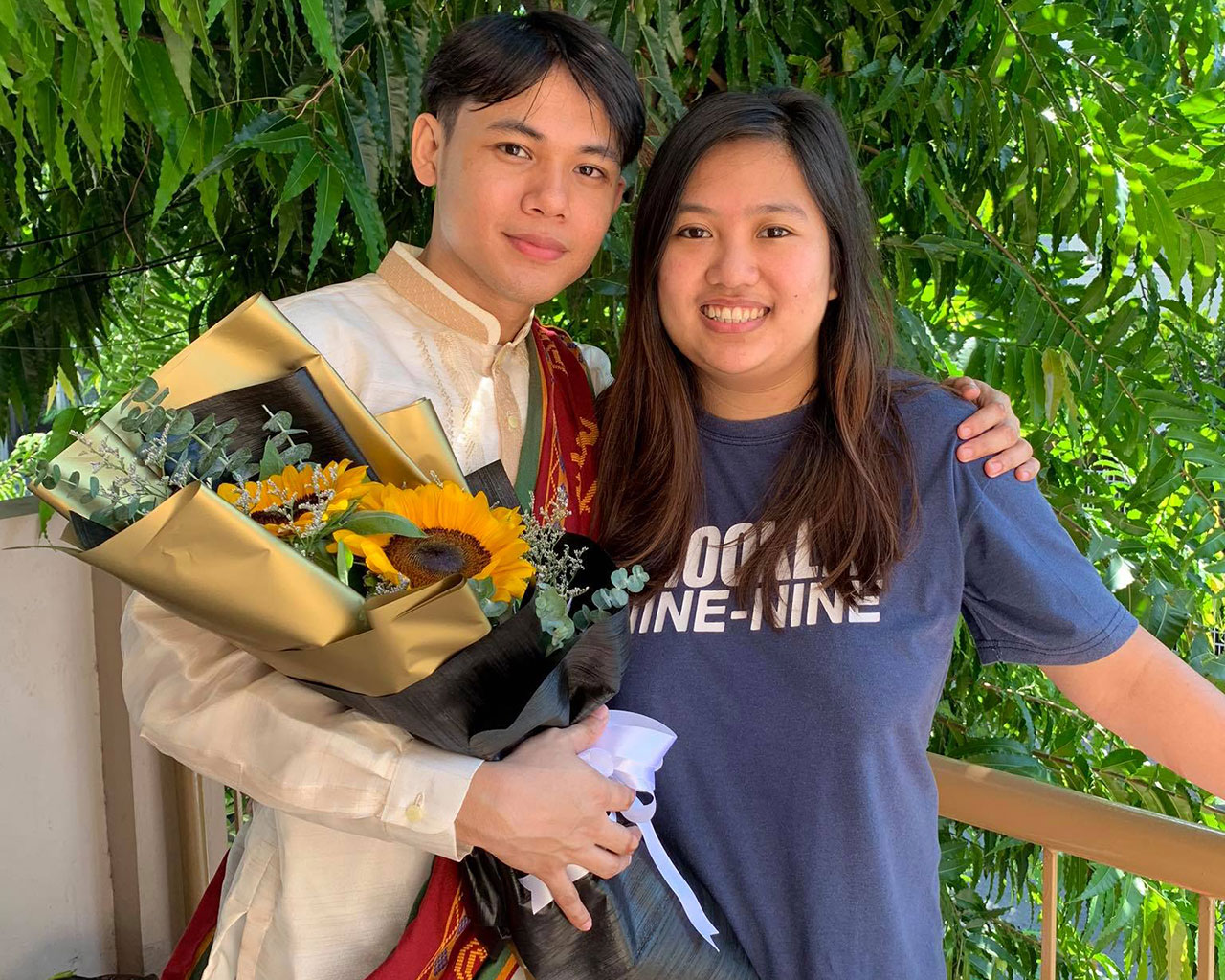 Like everyone else in the last 10 months, Mareon has had to celebrate his latest milestone with his family through a screen because of COVID-19. He watched the two-hour U.P. Virtual University Graduation, which was streamed on YouTube, with his partner Ryan, cousins Marianne and Marielle, and aunt Lea, then the party of five had a small feast afterwards – at home, still. And while Mareon would have loved to attend the graduation ceremony in person with his loved ones, he felt wonderful that there was still a celebration somehow.

As the COVID-19 pandemic continues to affect millions across the globe, the tradition of celebrating momentous occasions with family and friends has become a thing of the past. To make up for it, people have turned to technology for some semblance of togetherness.

Here's how people are marking important dates in their lives during the lockdown.

A year of existence
For parents, their children's birthdays are a joyous occasion to remember.

First-time mom Cecille, whose family is based in Hong Kong, had no choice but to mark their child's milestone in quarantine on July 16. Hong Kong was experiencing its third wave of COVID and everyone was advised to stay home unless travel was necessary.

"We celebrated our son's first birthday at home and our families from different [parts of] Manila joined us for a 'virtual salu-salo' via Zoom," says Cecille, who works as a Senior IT consultant.

She and her husband Lester, who is also an IT consultant, organized a simple Lion King-themed party at their Hong Kong home for their adorable son Harris, while Cecille's mother Agnes helped arrange logistics for food delivery for approximately 15 "invited" relatives in Manila.

"We decorated our homes according to the theme, ordered party food and cakes, and set up a Zoom call with immediate family and relatives to celebrate together in the comfort of our homes," says Cecille. The couple also prepared a 'smash cake moment' for Harris.

It was a unique experience for the first-time parents as they realized how easy it was to celebrate a wonderful milestone despite the current situation.

Says Cecille, "Just enjoy the moment and don't focus on things you'd be missing out on your celebration. Rather, focus on how unique and special it could be and it would turn out just as great or even more."

A plus one!
A surprise virtual baby shower was thrown by friends and family of Mik and Leo on October 17, 2020 for the soon-to-be-mom, through the initiative of Australia-based Kim and other friends in Manila.

"We decided to have this towards the end of [Mik's] second trimester so she wouldn't have to worry about buying all this stuff," says Kim.

Preparations included finding online shops for the gift registry, outlining a program, and arranging the delivery of gifts. They used Facebook to notify invitees about the event and to give updates. The theme of the baby shower was 'BabyQ' and preparations were three months in the making.

At the couple's home in Marikina, they played virtual games with their guests, such as Guess how many Skittles there are in the jar, Guess the 'baby' title in the song, and Guess the baby in the photo from among the 20 guests. They also shared parenting tips, opened presents, ate grilled food, and had a virtual photo booth.

Surprised and blessed – this is how Mik felt for being thrown a baby shower during this time, as she takes precautions seriously and avoids get-togethers because of her pregnancy.

"The fact that my friends and family made the time and effort to celebrate with us, even virtually, somehow made it more memorable," she says.
Love always wins

Kimberly and Meghan officially tied the knot on May 16, 2020 in Sydney, Australia, and sharing their much-awaited union with loved ones would not have been possible without the help of Meghan's high school barkada.

The couple envisioned an intimate rustic-themed wedding with only 40 virtual guests from various parts of the world, but their friend Rossi shared that their group wanted to recreate the full wedding experience in the new normal for their best friends.

"Zoom coverage included the ceremony and reception in Sydney, complete with the first dance, cake cutting, speeches, [and] recorded performances. [It was] attended online by over 150 guests from 7 time zones across the globe," she says.

The organizers – Rossi, Margie, and Roxanne in Manila, and Abigail in Indonesia -- took all of two weeks to put this feat together. They are a tight cross-functional team who all have unique and complementing fortes each, which made the planning and execution flawless.

According to Rossi, doing the online event required them to do simulations of production and the technical setup, and countless posts to educate guests on the basics of a Zoom wedding (how to download the app on their gadgets, preparing their own dinner, how to do the toast, selfies with the couple, what the program will be like, etc.).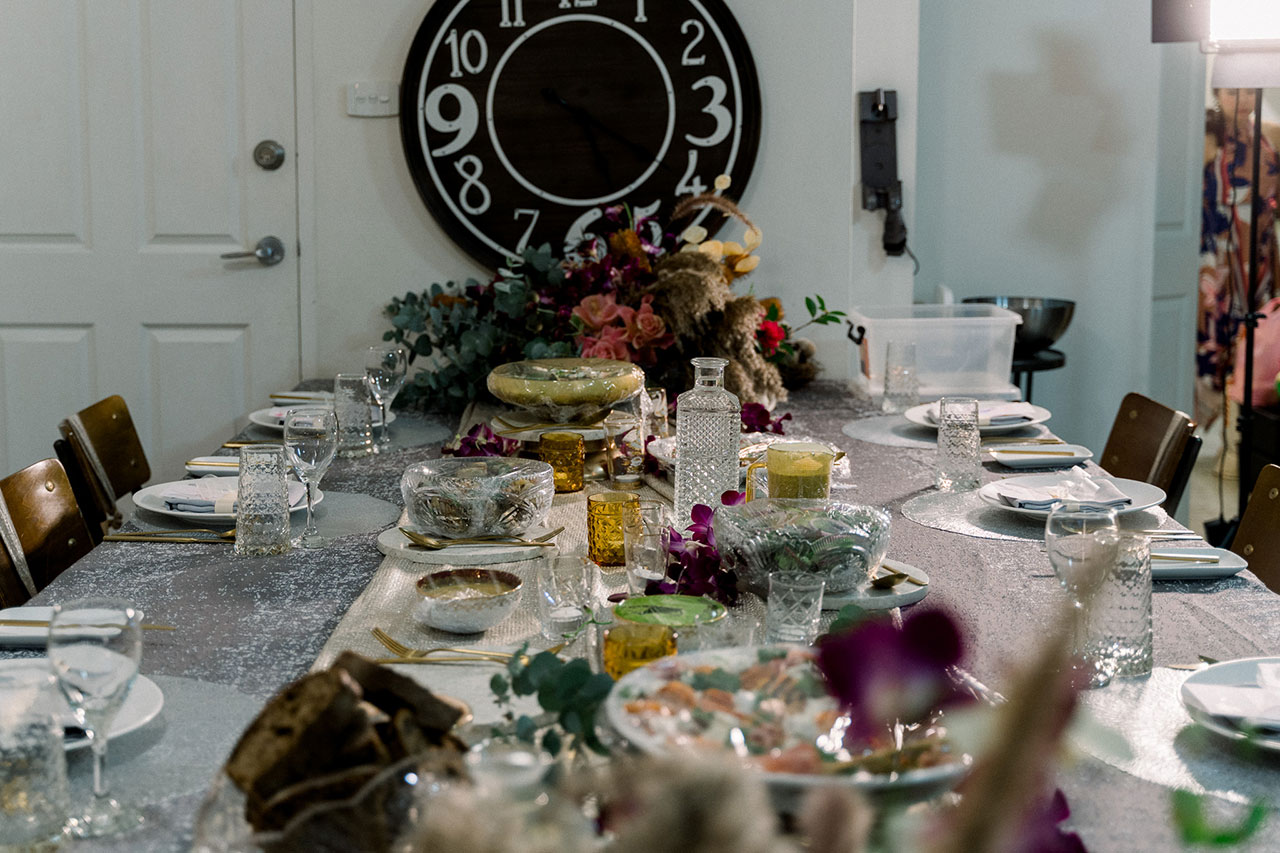 Kimberly shared that thankfully, no challenges were encountered as the organizers had weekly meetings, conducted dry runs, worked on the program cues, and had a technical team on standby in case of any issues.

The couple's family and friends participated actively in the prepared online activities such as games, quizzes via chat, and poll surveys, making the celebration even more unforgettable.

"I was very emotional…that [our] families couldn't be there for our actual wedding. It would have [also] been another celebration [for them] to see our second baby, who was 3 months old then," says Kimberly. "[But this event] has further affirmed and multiplied the unconditional love we have for each other."

To more years ahead
Teatro Tomasino, the official theater guild of the University of Santo Tomas, commemorated its 43rd anniversary with "Ellipsis," a two-day online event held from September 17 to 19, 2020.

"'Ellipsis' was guided by the season's theme Aninag Sa Alon or "The Reflection [of light] on the Waves," which gives hope to people as they journey on [to] the different paths of pursuing their passions," says Trisha, Marketing Officer of Teatro Tomasino.

Trisha shared that the Zoom event sought to reconnect student members with the alumni members, as well as them going back to "Mother (T),'' or Teatro Tomasino.

For a whole month, the organization's Executive Board, advisers, and alumni worked on drafting the program flow, acquiring videos and memorabilia, paying for Zoom subscriptions, doing dry runs, and promoting the event.

The organizers opted for Zoom due to its user-friendly features like the Waiting Room, which was used to check guests' identification, and the Breakout Room, which served as an online photo booth.

To make the event even more fun, they gave out awards like 'Best Actor' and 'Best Actress,' and 'Anniversary King and Queen,' among others. They made sure the prizes were in the form of electronic gift certificates.

Trisha shared that though there were instances of intermittent connection issues and last-minute changes in the program during the virtual anniversary, which was joined in by 200 people, it was still generally successful.

"During the event, the Teatro Tomasino hymn was played and all [the] members sang," says Trisha. "It was very heartwarming and overwhelming to see everyone -- from the very first member down to the apprentices -- connected and celebrating even through an online video call."

Indeed, this new way of celebrating victories and lasting memories is a brilliant alternative to face-to-face meetups. Being connected to your loved ones, even if they are afar, is the essence of a celebration, after all.