Work From Paradise: Take A Look At These 7 Airbnbs Best For Working Remote
Work or vacation? The sprawling views will make you forget.
After more than a year of doing work from the comfort of our own homes, the urge to go someplace else has frankly never been stronger. Luckily, Airbnb houses thousands of listings to scroll through, given the platform's support to the remote working community since the pandemic started.
We took it upon ourselves to scour the site for WFH hotspots, and what did we find? Jawdropping panoramic views, workspaces in the form of a hammock, and so much more! Between an exhausting news cycle and ongoing woes of the pandemic, doesn't the thought of a lil' change of work scenery sound just about perfect right now?
If you're looking for a quick shift or perhaps a more extended stay, check out our top picks of the best Airbnbs for remote workers below! Seamless internet connectivity and hygiene protocols are, of course, a given.
Modern Cabin with Panoramic View
If you're dreaming of a vacation but can't get away with work, then this studio cabin tucked away in Nasugbu's rolling terrain is the perfect hideaway! As if the backdrop of Mt. Talamitan and Pico de Loro doesn't speak for itself, the cabin's charm is coupled with a view deck, grilling area, swing, hammock, and other essential amenities for your Instagram — we mean Zoom-ready workspace!
For bookings and inquiries, contact Camper And Cabin on Airbnb.
City condominium
If jet-setting to New York isn't on the cards for you anytime soon, fret not! Who says you cannot indulge in work life in the city just like old times? (pre-pandemic does feel ages ago already, doesn't it?) The difference now is that you won't be staying at your usual desk but, rather, enjoying the Manila skyline at the comfort of your 42nd-floor balcony. The unit is nestled next to Makati CBD, which means you have access to a plethora of food and shopping options. Should you want to take pauses, access to the pool area comes with a minimal price tag of only 150 pesos per head!

For bookings and inquiries, contact Maria on Airbnb.

Mountain Lake Tiny House
If you're a nature lover, your ideal day would involve waking up to the sound of birds on the mountain top and a meditation session breathing the crisp valley air … except right now, you're on your bed, still on your PJs, daydreaming amid a rigorous work week. Take a break from your usual setting by booking this Airbnb lake house for a day or two! Designed for you to enjoy focused attention, the house is basically empty but can come with sleeping essentials upon request. Just gear up with your usual camping essentials to quench your thirst for the great outdoors.
For bookings and inquiries, contact Bloc on Airbnb.
Natural Stone House
This natural stone house listing perched in the idyllic town of Siquijor is a popular stunner. If you work better with an outdoor view, it doesn't really get any better than this. The stairs on the cliffside practically take you to your own private beach in which you can snorkel and chill to your heart's content — the only thing you'll ever need after a long, tiring workday. And with an almost-perfect rating of 4.91 (based on 157 reviews), the friendliness and hospitality of the hosts alone might have you never wanting to leave.
For bookings and inquiries, contact Andy on Airbnb.
Mango Nest Hut
Quality quiet time, airconditioned hut all to yourself, giant poodles — need we say more? Head over to this tiny A-frame hut situated 10 minutes away from Subic Bay beaches and waterfalls. You know what that means: unlimited access to world-class diving spots should you feel the need to brush up your skills a bit! If a solo retreat is what you're after, you'll have the garden all to yourself as well. It's definitely a bonus if you're running client meetings all day long!
For bookings and inquiries, contact Tamara on Airbnb.
Work From Home Loft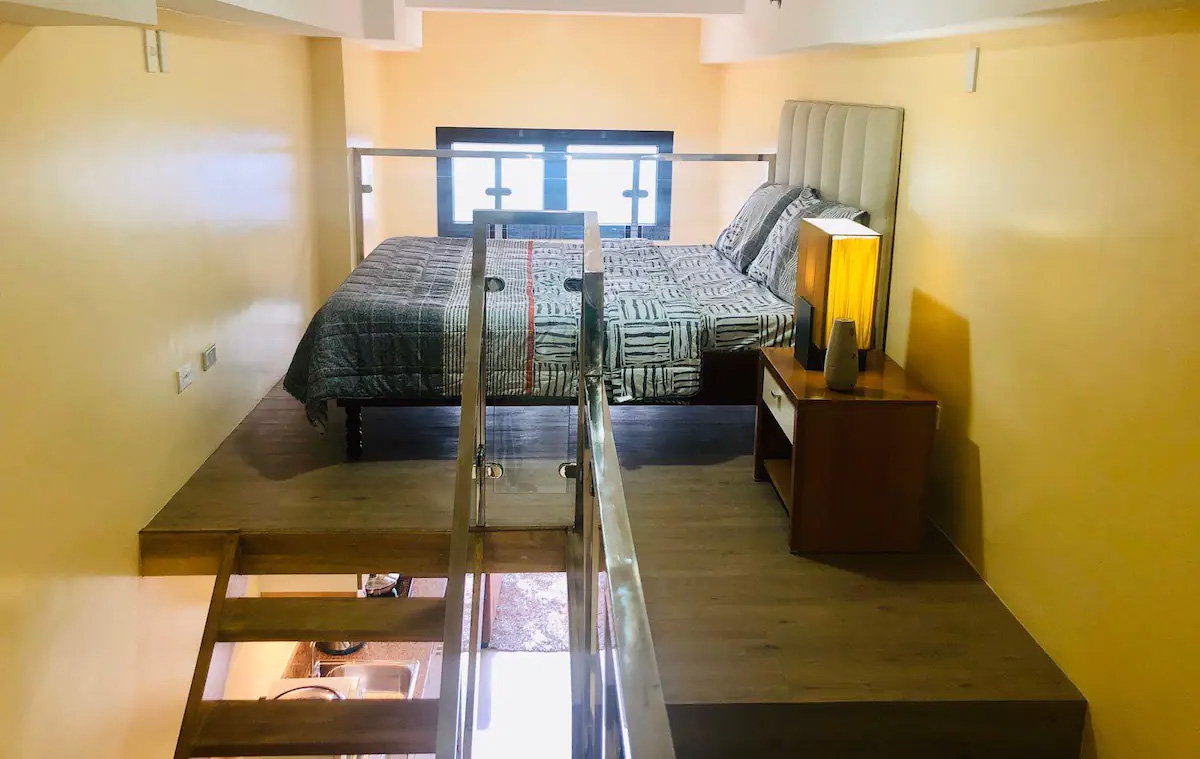 Is there a more quintessential getaway for remote work than this house located in Baguio? Immerse yourself in the wonders of the country's summer capital by staying at this modern loft, which gives you incredible mountain views and high-speed internet to boot! If you're looking to escape from it all but can't stay completely off-grid, then this is your best bet. The great part? We all know Baguio enjoys cool weather all year round so you can squeeze in some reading time while cozying on the couch!
For bookings and inquiries, contact Adrian on Airbnb.
Lotus Belle Tent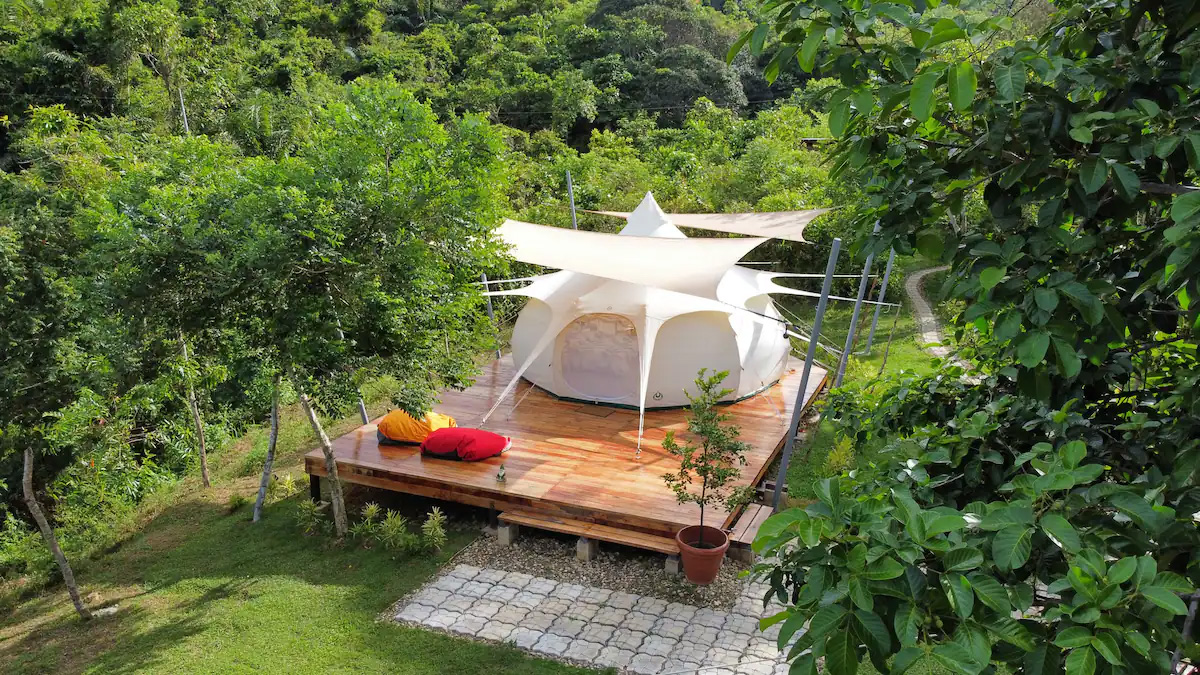 While glamping experiences have been gaining steam for quite some time before the pandemic, there's never a better time to go for its outdoor appeal now that we're all for social distancing! Remote workers looking for some fresh-air staycation would find a ticket in this Lotus Belle tent, a luxury airconditioned glamping site tucked away in the mountains. It comes with an open-area kitchen and lounge area with a coffee maker, which, let's face it, is critical to start your workday on the right note. At night, just curl up in your camping chair enjoying the bonfire — the hosts offer a complimentary smores kit for you and your hardworking friends!
For bookings and inquiries, contact Kerwin on Airbnb.